n. Inverse autocorrelations
The inverse autocorrelations were introduced by Cleveland (Cleveland 1972) and are important in ARIMA model identification and estimation.
Cleveland's original definition was related to the frequency domain. Let W(t) be a stationary time series with spectral density s. It is supposed that 1/s is integratable on [0,1].
The autocovariance and autocorrelation function of W(t) are given by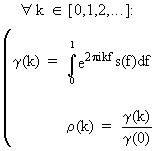 (V.I.1-240)
The inverse autocovariance and autocorrelation function is defined by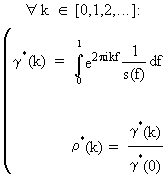 (V.I.1-241)
which is the same as the autocovariance and autocorrelation function of the model

(V.I.1-242)
The use of this inverse autocorrelation function (IACF) for identification has advantages over the traditional PACF in the case that W(t) has an MA structure. In fact the IACF can be interpreted just as a PACF, except that it (sometimes) gives a much clearer picture for diagnostic purposes.
Note that the (I)ACF and (P)ACF are not defined for continuous processes due to the fact that 1/s cannot be integrated. In other words: since the (I)ACF and (P)ACF are dependent on the sampling rate of the time series (generated by a continuous process), they are somewhat artificial in nature.
Cleveland proposed two estimation procedures. The first algorithm involves the estimation the parameters in the K-th order autoregressive regression

(V.I.1-243)
for which the spectral densities are

(V.I.1-244)


(V.I.1-245)
The second algorithm involves the use of smoothed periodogram estimation of the IACF which is beyond the scope of this work. In modern literature, many other estimation algorithms have been suggested but since they do not enhance the understanding of the IACF, they are omitted.
The "enlightening" work of Chatfield enhances the understanding of the IACF by using the Mohr-equation

(V.I.1-246)
where G*(z) is the inverse autocovariance generating function (IACVGF), G(z) is the autocovariance generating function

(V.I.1-247)

The inverse autocorrelation generating function (IACGF) is

(V.I.1-248)
whereas its the autocorrelation generating function (ACGF) is given by

(V.I.1-249)
It is obvious to see that (V.I.1-248) multiplied with (V.I.1-247) reduces to

(V.I.1-250)
but surprisingly it can be found that

(V.I.1-251)
except if W(t) is a white noise process.
This is perhaps not really surprising, since if

would be true in general, there would be no gain in using the IACF in stead of the PACF.